Hi everybody!
If you're new to aerial silks and hoop, you'll want to get started with our regular classes first, since you need expert guidance to start your journey. Details are here:
If you're an experienced practitioner and are accustomed to self-practice without spotting or guidance, please WhatsApp your performance videos and a link to social media to us. Our number is at the bottom of this page.
For both categories, regular students as well as experienced self-practitioners, the notes below on safety apply. Please read this webpage carefully for details on what you're expected to know to be safe.
HOURS, PRICING, AND LOGISTICS
~ Experienced self-practitioners are welcome to come train during our open hours, subject to availability. The fees applicable for self-practice are the same as for climbing, and you can also purchase passes or a monthly. Since the flooring is frequently in use, please e-mail or WhatsApp us to check availability first! Contact details are at the bottom of this page.
~ You need to have taken at least forty-eight sessions with an aerial teacher at Delhi Rock to qualify for self-practice. This is to ensure that you have your safety basics, and know how to handle the space safely. We will additionally ask our teachers to screen students who are permitted to train alone, as silks can be dangerous.
SAFETY AND RIGGING BASICS
~ Please don't change or tamper with our knots! This is crucial for safety. This is the one we use: the rewoven figure 8. At the very least, you should be able to visually inspect a knot to ensure you're not getting on something which is unsafe:
FIGURE 8 KNOT, FRONT (GEAR END):
FIGURE 8 KNOT, BACK (GEAR END):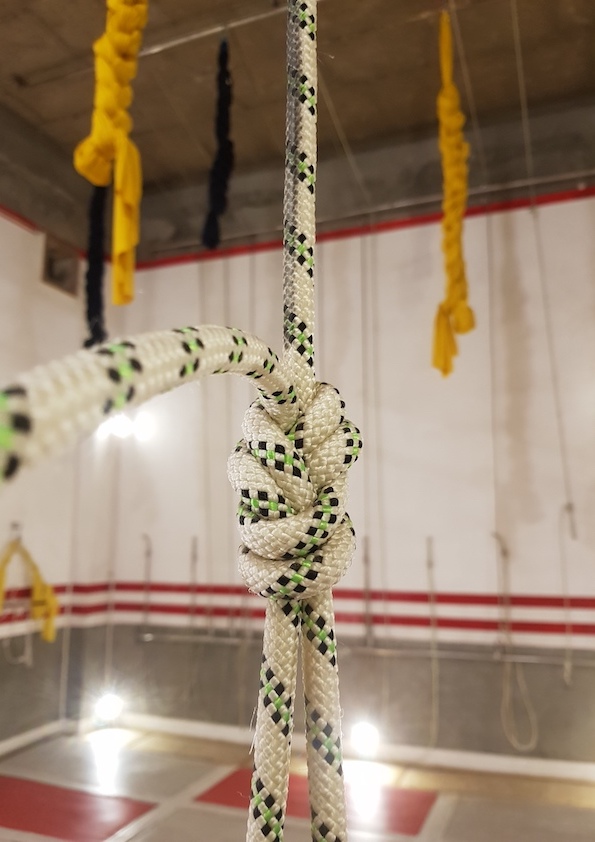 FIGURE 8 KNOT, FRONT (ANCHOR END):
FIGURE 8 KNOT, BACK (ANCHOR END):
~ Do please apply your own judgement with the rig and alert us to any anomalies. Safety is your responsibility, so always be aware and exercise good judgement. Don't use something if it looks or sounds strange, and tell us. At the very least, ensure that:
LINES ARE SEPARATE & STRAIGHT, NO NYLON ON NYLON:
~ Please use crashpads. We have plenty at the gym, always place one under you, and then put it back where you found it (usually near the arch) after you're done.
~ Please check and inspect your personal equipment (silks, hoop, figure of 8, carabiners, etc). The safety of your equipment is not Delhi Rock's responsibility and we will not inspect for you. So please ensure your equipment is in good working condition. For our students: We inspect our equipment regularly, but if you notice tears or other problems with silks, carabiners, rope, rigging, etc., please alert one of us right away.
~ This is the only way we prescribe tying a silk to a descender, please ensure you are familiar with this. You can see this video from Aerial Physique and another one from Aerial Essentials on how to tie a silk.
SILK ON DESCENDER, FRONT: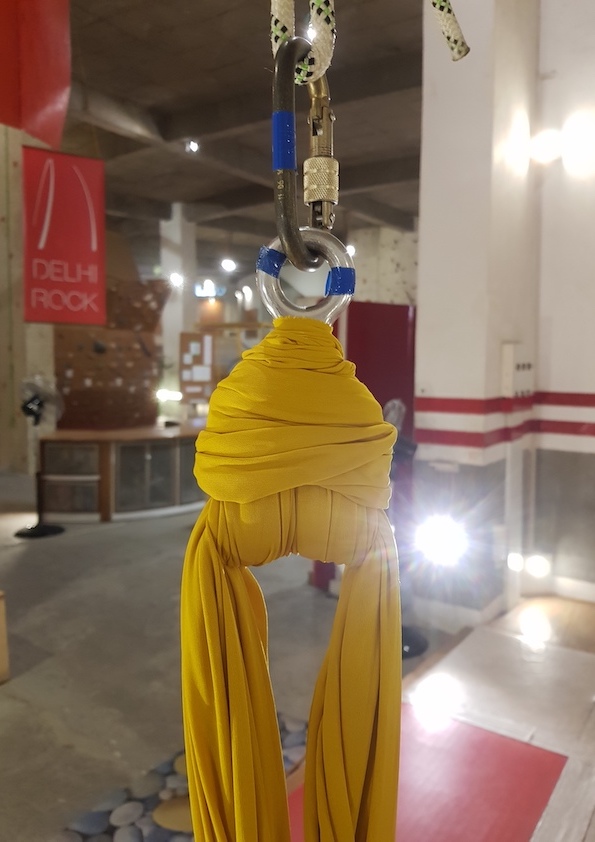 SILK ON DESCENDER, BACK: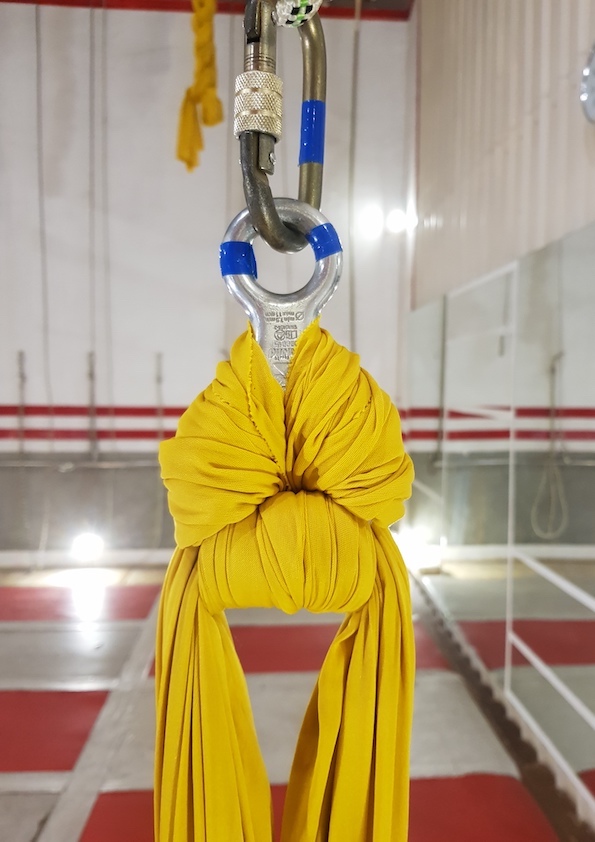 BEFORE & AFTER
~ Stow the ropes neatly. Ropes represent your only safety while on the silks, and so good rope management, keeping things unsnarled and neatly arrayed is showing respect for critical safety equipment.
~ Carabiners must always be locked during use. You should check the lock before jumping on a silk, on both ends. If the carabiner is running rough, and you're not sure that it's locking properly, please ask one of us to come take a look.
GEAR CARABINER, LOCKED:
ANCHOR CARABINER, LOCKED: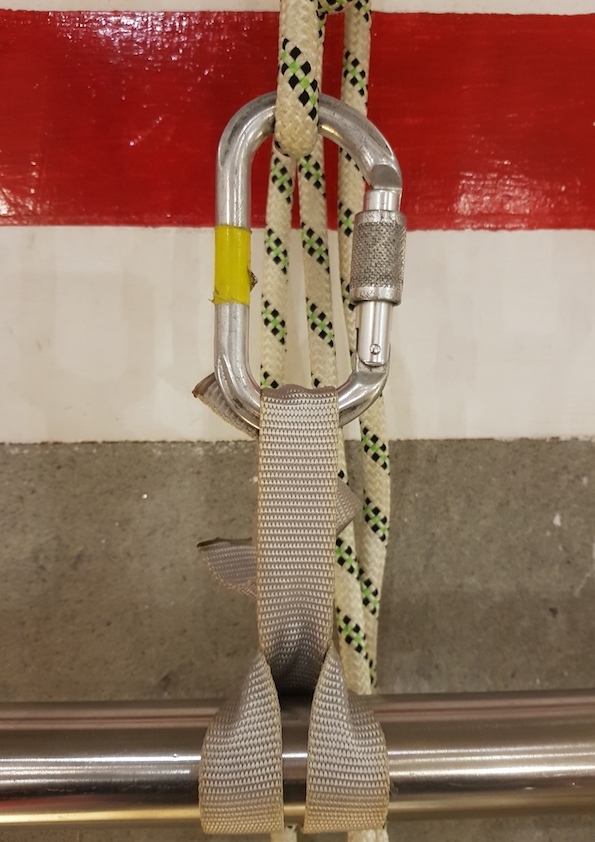 ~ Remember that warmups and cooldowns are crucial for the longevity of your practice! Just because you're coming for self-practice doesn't mean you skip a thorough warmup, and an equally thorough cooldown. Be gentle on your body.
~ Students, please use the rosin dust only in the box, do not spread it around; it is a valuable resource, and stains flooring quickly because of how sticky it is. Please spray the silks lightly with Dettol spray after use to keep them smelling fresh, and also for an added layer of Covid defence.
KEEP ROSIN IN THE BOX & SPRAY SILKS AFTER USE:
Alright, that's it then! Do please drop us an email or contact us at the number below to enquire about a time you'd like to come in for practice, so we can check availability.